The hubster and I took a break last Saturday and went canoeing. The
North Canadian River
enters Oklahoma from New Mexico and flows southeast, eventually joining the Canadian River in southeast Oklahoma. We put in near a county road bridge halfway between Yukon and El Reno. Recent rains had lifted the water level, or else we would not have been able to put in so far west; the river is typically very shallow in that area and would not have floated the canoe. As it was, we scraped bottom a few times on our trip, but never had to actually get out and drag the canoe. The cottonwood trees are flowering, and their little wispy seeds were lying on top of the water, forming a telltale sign of where the current was strongest.
If you've never done any flat-water canoeing, I encourage you to try it. It's a great way to get outdoors and experience a little bit of nature. Depending on the location where you choose to paddle, it can be a quiet, peaceful experience, or a noisy, fun time with a group of friends. I typically prefer the former, and look forward to seeing wildlife and enjoying the break from everyday societal responsibilities.
I learned to canoe with my first job after college. In fact, I began working for
Hurricane Island
Outward Bound School
as an intern, and stayed on after graduating. While being an instructor responsible for 11 adjudicated teenagers in the wilderness for 30 days is not what I would call relaxing, I did still find it enjoyable. Well, most of the time. Some of the time. Whatever. I did learn to love canoeing because of that job. Nowadays, everyone wants to jump in a kayak, but I prefer the slow, steady, comfortable canoe.
The hubster had not done much canoeing before we met. His hobby had been rock climbing, but due to back problems, he had given it up shortly before we started dating. While he's still not as crazy about it as I am, I think canoeing helps fill the niche left open by rock climbing. It's a slower pace and definitely not as physically demanding, but still gets him outdoors and in to nature. It's a wonder he's stuck to it, though, because not long after we began dating, we took a canoe out on the Buffalo River in Arkansas. To say that things didn't go as planned is an understatement. We eventually found out the canoe had a leak. That, coupled with an overloaded boat in low-class rapids, led to much flipping and swamping. At the end of the trip we were both covered in bruises!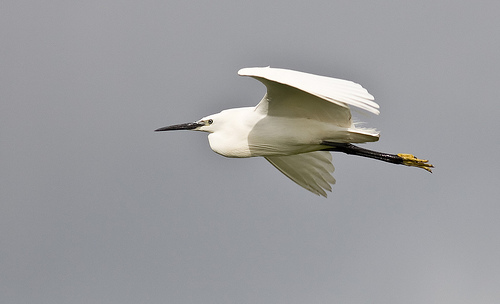 But, I digress. Our paddle on Saturday consisted of 14 winding miles through mostly forested areas. The wind did not whisper, but roared through the trees, sounding like rushing water. We saw plenty of birds, like the not-so-little little egret at left (no, I didn't take this picture). I've always found their dark legs and yellow feet oddly fascinating. I believe it's the only egret to possess that characteristic. At any rate, they were plentiful along the river and I enjoyed seeing them.
We also saw several great blue herons. As we came around a bend in the river, the hubster pointed at a huge nest in a tall tree with two large babies. It was neat to see--and probably uncommon.
We saw a little blue heron, which I've since learned only migrates through Oklahoma, so that was kind of special, too. Having grown up in Florida, I sort of took wading birds for granted, because, well, they're everywhere. Now I don't get to see them as much, so I really enjoy it when I do.
I kept an eye out for the belted kingfisher as well, and finally saw one sitting on a cattle fence. He just watched us paddle by. I was hoping he would fly above us and give his trilly shout, but no such luck.
Other wildlife we saw included several water snakes, lots of turtles, dragonflies galore. But probably the highlight was a very large beaver. We somehow (without trying) managed to sneak up on him. He dove under water as we passed. We were as startled as he was. That was my first time seeing a beaver.
As we got closer to our take-out point near
Stinchcomb Wildlife Refuge
, the water level deepened, the river widened, and the current slowed. The last two miles or so were a hard paddle into the wind for the two of us. The combination of sun, wind and a little more exercise than we normally get had worn us out.
I can't wait to do it again.