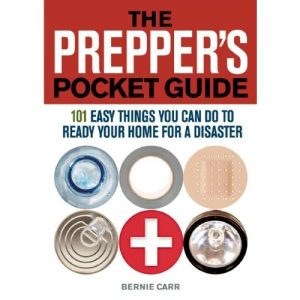 Sometimes prepping can become overwhelming. It's difficult to put a plan or checklist down on paper, and then apply a timeline to it. There's just so much to do! It's practically impossible to focus on every area of prepping at once. Consequently, you may be sacrificing security preparedness while focusing on long-term food storage, for example. Frequently while working on one thing, I'll realize there's another area that I've been neglecting. I'll make a mental note to tackle it next, but then often forget about it (I'm no spring chicken!). Several times now, I've intended to make myself sit down and write out a checklist. But as soon as I get started, the enormity of what needs to be covered quickly intimidates me.
Enter this
nifty little book
. The author has taken general emergency preparedness, and broken it down into 8 key areas, making it much easier to see the big picture. At the same time, the book acts as a checklist and/or plan for my prepping, which helps me keep all areas in mind even while focusing on one component at a time.
This book is not the be-all, end-all on the subject of prepping: it would be impractical for the author to try to cover each topic she presents in-depth. Some topics require--and are given--more coverage than others. What this book does do is give anyone interested in preparedness a foundation on which he can build to meet his own needs.
I, for one, have gone through the book, highlighting areas and ideas the author presents that I can utilize to improve my preparations. I'm sure before long the margins of my copy will be filled with notes. This book would be good to give as a gift, if you're looking for a way to introduce others to emergency preparedness, but is also a good resource for those already knowledgeable about the subject, as it condenses a large amount of information into one small package.