Taking a break from the regularly unscheduled program to bring you news of some recent scams.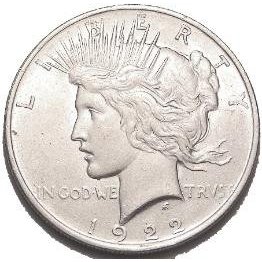 The hubster recently thought he found a great deal on some silver peace dollars on eBay. The ad was for 100 peace silver dollars for $399. The seller was from China. Hubster thought he had come across someone who didn't know the value of what he had for sale, and we would get a great deal because of it. I thought the seller had probably inadvertently left an additional "9" off the price tag. Neither of us really thought it was a scam.
The hubster ordered one. (He considered ordering several, as others had done, but then decided to see what happened with the first one first). I figured he would get some sort of email back, saying the price had been incorrectly reported or some such, and the deal wouldn't go through. But after a couple of days, the credit card was charged for $399.
A week or two later, we received a package in the mail with ONE coin in it: some foreign coin that was about 10% silver and probably worth less than $20.
Long story short, the hubster sent back the coin, had no luck contacting the seller, and then proceeded to argue with eBay daily for about a week, until they agreed to refund the money. It was refunded yesterday.
Incidentally, the seller had a 99% positive rating from something like 700+ people. He was suspended from ebay--but probably will just open a new eBay account. EBay refunded our money to us from their own pockets, but the scammer still walked away with the cash from our transaction, plus money from everyone else who attempted to buy the same deal we did.
If it sounds too good to be true, it probably is.
In unrelated scammer news, a coworker shared with us today that someone tried to scam her 93-year-old mother. Her mother received a phone call that went something like this:
Grammy (which is what her grandson calls her), this is Patrick (her grandson's name). I'm in Canada and I've gotten into some trouble. I was riding with some friends, and we crossed the border, and got stopped and searched. There was some cocaine in the car. It's not mine, I don't know anything about it, but now I'm in trouble and the Canadian police want $5800 to let me go. Oh and please don't tell mom about this, I don't want her to worry.

The police are going to call you in a few minutes and tell you where to send the money.
"Grammy" told the caller he didn't sound like Patrick, to which the caller replied, "Well, it's because I'm calling from Canada." Grammy then tried to call both her daughters, but couldn't get ahold of either one. The "police" called Grammy, asked for her address (which she gave them) so they could locate the closest place for her to go to wire the money, then sent her to a grocery store with both a Western Union and a branch of her bank. They gave her an address in Peru to wire the money to.
She went to the bank booth. Thankfully, her daughter works for said bank (though not at that branch). She has worked for them for over 30 years and everyone knows her. When Grammy told the cashier what she wanted and why, the cashier tried to tell her it was a scam. Grammy got irate with her. The cashier said she wasn't going to give Grammy the money until she (the cashier) talked to Grammy's daughter. (My coworker thinks her sister may have put some kind of flag, or signature privileges, on Grammy's account--I don't know all the details there and didn't ask). They were finally able to get the daughter on the phone. The daughter then got Patrick on the phone, who was of course fine, and nowhere near Canada (or Peru). They finally convinced Grammy it was a scam. Crisis averted.
Even though the first scam affected me more directly, I think the second one pisses me off more. People who prey on the elderly are slime. They took the time to find out her grandson's name, her nickname, and who knows what else.
My coworker thinks they may have gotten the info from her father's obituary in the newspaper (he passed away less than a year ago). She reported the incident to the police, but they said there's not much they can do about it. They said they would look into the phone number the scammers called from, which had the Quebec area code. She asked if they had someone who could come give a talk about scams such as this one at the retirement community where Grammy lives, but they said they didn't have anyone. My coworker's sister is going to get someone from the bank to do it.